Laurin Heinrich talks about his title win, his simulator training and his clumsiness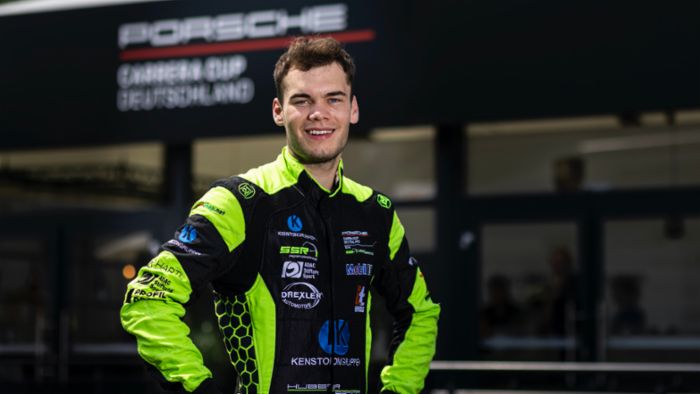 It makes Porsche Junior, 21, the first driver in seven years to claim the championship title before the final weekend. In an interview, the racer from Würzburg talks about the first moments after crossing the finish line, the support of former Porsche works driver Wolf Henzler and his motorsport-mad family. Heinrich also explains what he means by the term "hybrid-racer" and the rituals he practices at each race.
Laurin, you are the new champion of the Porsche Carrera Cup Deutschland. What does it do?
Lauren Heinrich: It's amazing to be the new champion. When I saw my team cheering against the pit wall at the finish line, it was an indescribably wonderful moment. Even the fans in the stands at Sachsenring cheered me on during my recovery lap. Mad!
What are the most memorable moments of the season?
Henry: Certainly my two victories at the opening of the season at Spa-Francorchamps, that's where it all started. And Spa is also one of my favorite racetracks of all time. The cars driving through Eau Rouge and Raidillon are quite simply a highlight of the season. And I have fond memories of the race weekend at the Red Bull Ring. Not just because I won there, but because the three of us SSR Huber Racing riders ended up on the podium. It was a huge victory for Christoph Huber and the team. And then there was the big anniversary at the Lausitzring with the 100th Carrera Cup race for Huber Racing.
You have remained at the top of the classification since the first race. How did you manage to stay focused throughout the season?
Henry: The first two years in the Porsche Carrera Cup showed me that anyone can beat anyone. That's why I didn't expect to win the title at Sachsenring. Six wins and five podiums with my Huber Racing family is phenomenal. As a champion, it's a great feeling to follow in the footsteps of so many motor racing legends like Timo Bernhard. He won the Carrera Cup in 2001.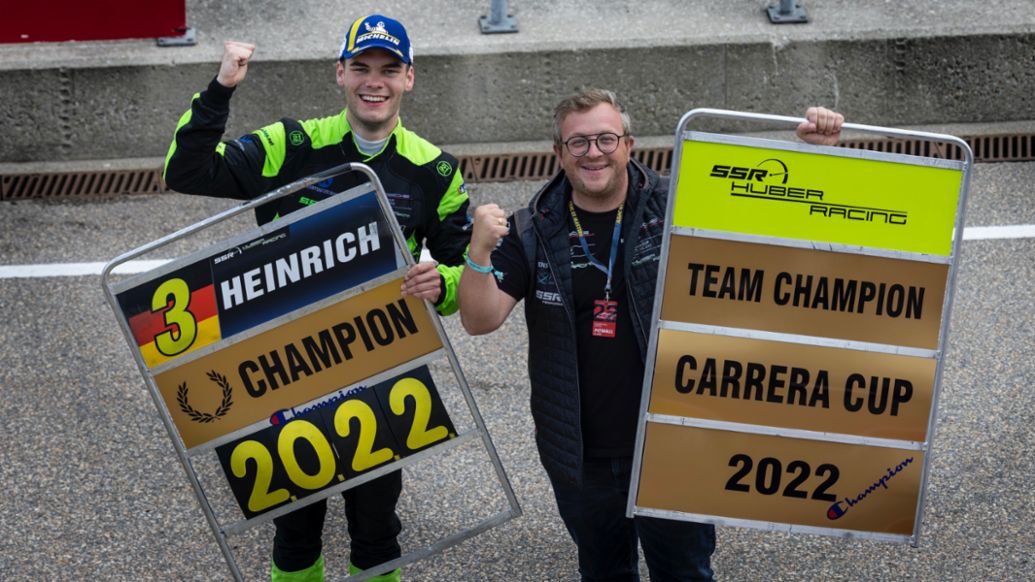 This title is not your first in a Porsche racing series. When did you first sit in a Porsche?
Henry: It was in 2019 in the Porsche Sports Cup Deutschland. I wanted to take advantage of the year to familiarize myself with the Porsche 911 GT3 Cup as well as possible. At the end of the season, I was crowned champion of the Porsche Super Sports Cup. It's been an incredible year. Also, I competed in the model that preceded the current Cup car, which was a disadvantage. A year later, I also managed to win the Porsche Endurance Challenge title.
You also demonstrated your prowess straight away in the Porsche Carrera Cup Deutschland. How do you explain that?
Henry: For the first two years I was part of the Porsche Carrera Cup talent pool team and received great support from my trainer Wolf Henzler. He helped me – especially how to handle unfamiliar situations. For example, I lacked experience in rain races. Wolf gave me valuable advice, like where to expect wet spots on the track and how best to cool the tires on a drying track.
Your father Harald is always by your side. How important is it to you?
Henry: My dad comes to almost every race weekend. He has always believed in me and never hesitates to give me a hand. When I was a kart driver, my father was a mechanic and in Formula 4 ADAC he was responsible for organizing our private team. My mother and my sister also often come to the racecourse. You could say that I come from a family of motorsport enthusiasts.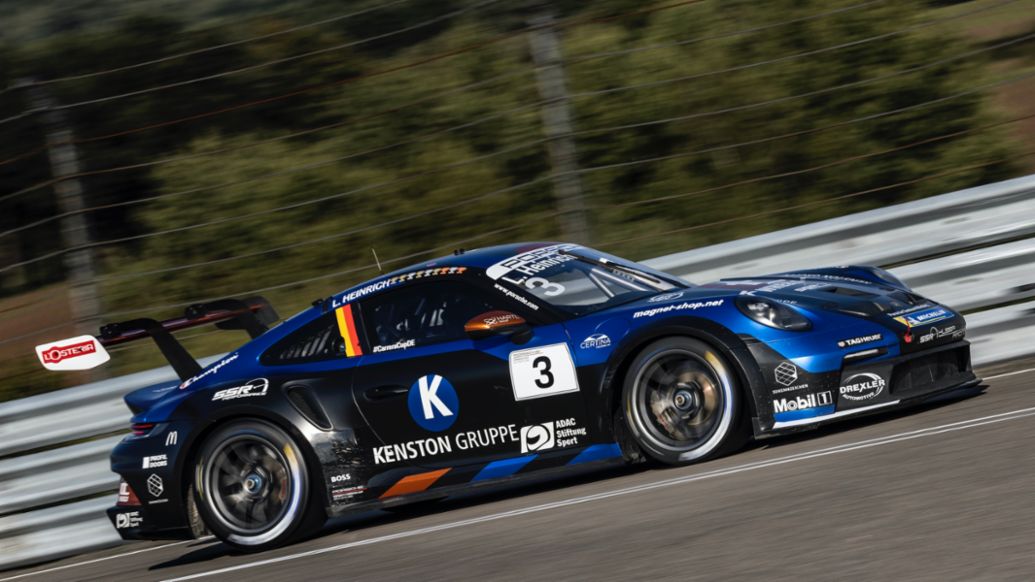 Even away from the circuits, your life revolves around motorsport. You describe yourself as a "hybrid runner". What does this term mean?
Henry: This means that I not only race on real circuits, but also compete for victories and championships virtually at a professional level. In these series, I compete in virtual endurance classics like the 24 Hours of Le Mans or the 24 Hours of Nürburgring. This year, for example, I am competing for the Porsche Coanda Esports Racing Team in the Le Mans Virtual Series. There aren't many drivers who do both at a professional level, so I see myself as something of a pioneer in combining virtual and real motorsport.
Do you also prepare virtually for the real races?
Henry: It depends on what I want to train for. If it is an unknown circuit, I will prepare intensively in the simulator. This way I can gain experience on the circuit long before the actual event. The Nordschleife, for example, is a very long track. Racing simulators are great for learning the circuit inside out. It's a great tool to make sure you don't have to start from scratch. In addition, training in the simulator also pays off on demanding tracks like Imola.
What are the differences between esports and real car racing?
Henry: In esports, a vehicle never behaves exactly like a real car. In real motorsport there are factors such as sand on the track or component wear. That said, the tracks are very close to reality, you can feel every bump in the digital version.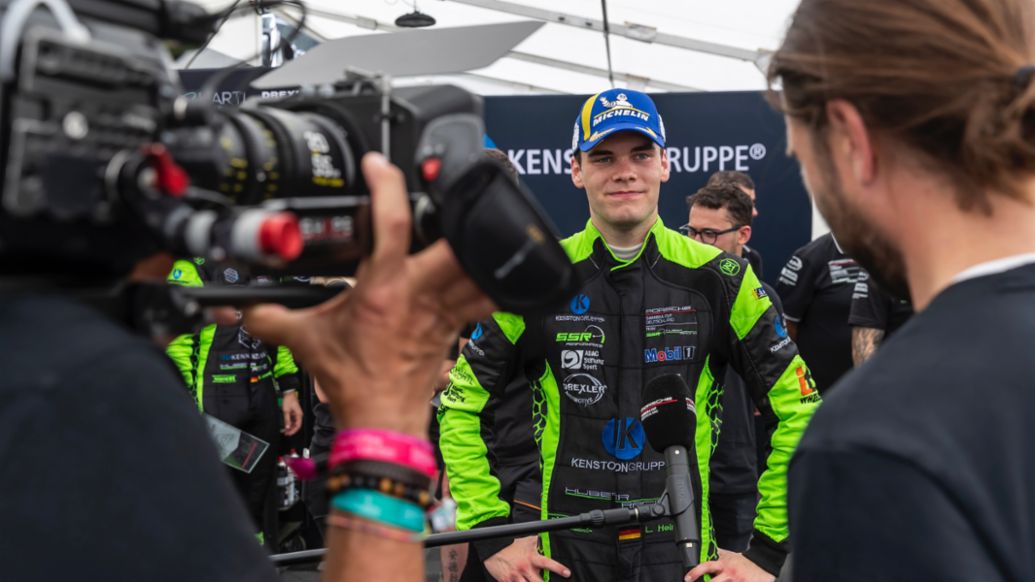 Is there a surprising fact about you?
Henry: Maybe I'm very superstitious. For example, before a run, I always put my left glove on first, or when climbing stairs, I always take the first step with my left foot. However, that might have something to do with me being left-handed.
Have you always dreamed of being a professional racing driver?
Henry: When I was a kid, I didn't even imagine that I could be a professional racing driver. When I was younger, I wanted to be a pilot. Flying is my passion and I also have a small flight simulator at home. If ever someone offered it to me, I would even board an aerobatic plane. I don't think g-forces in a loop would bother me.
What dreams do you have for your future?
Henry: First of all, the title is a huge milestone and hopefully an achievement that can open a door or two for me. I recently fulfilled a dream: I participated in the season finale of the Porsche Carrera Cup North America on the legendary Road Atlanta and was able to race in the United States for the first time. My summer vacation in Los Angeles a few years ago made me a big fan of the American lifestyle.