Biaggi furious, mechanics banned in Moto3 interference case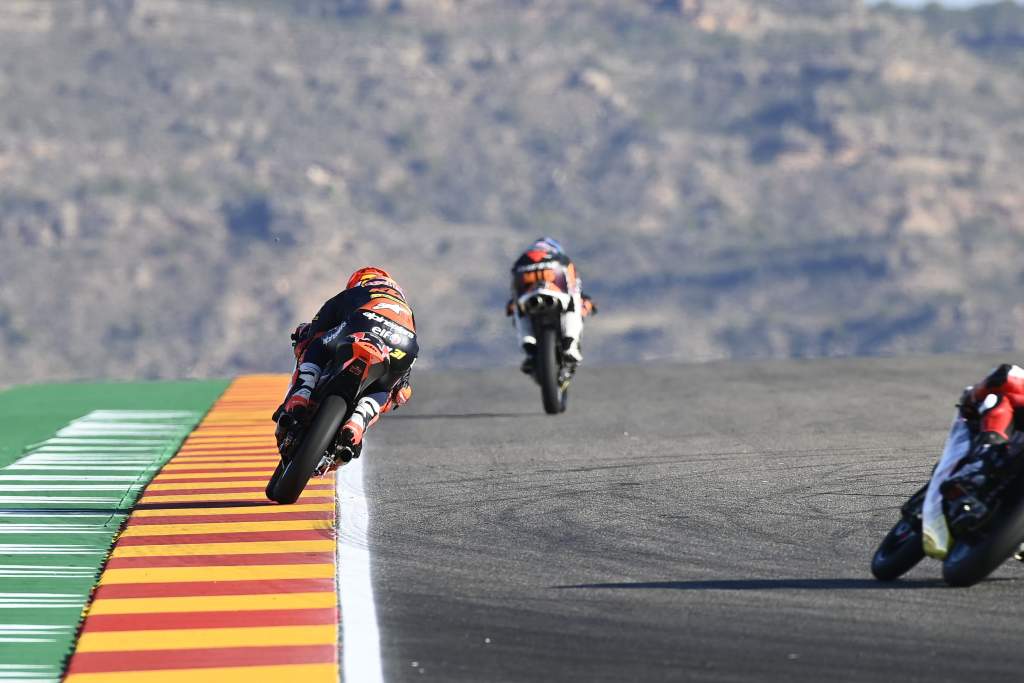 Former MotoGP star Max Biaggi has blasted members of his eponymous Moto3 team for their actions during qualifying for the Aragon Grand Prix, after two team mechanics were caught on camera preventing Tech3 KTM rider Adrian Fernandez to leave the pit lane behind their driver Ayumu Sasaki. .
In video footage posted to social media by Tech3, two Max Racing team members can clearly be seen getting in the way of their former rider Fernandez – younger brother of MotoGP rider Raul – and apparently getting in touch with his front brake as he prepared to exit the pit lane.
According to Tech3 team boss Hervé Poncharal, this then caused Fernandez to stall his machine, preventing him from entering the track as he and his mechanics rushed to restart the bike. Once restarted, Fernandez no longer had time for a fast lap and was relegated to 15th on the grid.
This is what happened in #Moto3 Q2 today. @31AdriFernandez was denied starting in the correct group for QP time, by another team. Unacceptable. @MotoGP @Max_Racing_Team 👍🏻#AragonGP pic.twitter.com/BgfRAMfu2S

— Tech3 Racing (@Tech3Racing) September 17, 2022
And while it wasn't entirely clear whether the mechanics' actions were deliberate or not, team boss Biaggi exclusively told The Race afterwards that swift and severe penalties would be imposed on both team members, regardless of their intent.
"It's clear to me!" the Italian fumed afterwards. "I was there. I was talking with [pitlane reporter Antonio] Boselli from Sky. I didn't notice because it was quick – I noticed when someone sent me the tweet. I saw. I want to speak with the mechanics about what happened.
"They spoke very [quiet mumbles]… Why? It's incredible. I went to Tech3 and asked what happened. They explained to me. I said sorry, I said it was unacceptable, and I will take action. So, from my point of view, this is unacceptable. Any aspect, any class, anything.
"And… [even] if Dorna or IRTA will, I don't know, punish somehow or say it's something… I'll do it myself, in the team. There will be a punishment for the behavior. It doesn't mean anything if they did it on purpose or not. It was clear to me. And unacceptable.
A video from another angle was later uploaded by MotoGP itself and offered a clearer picture of what happened.
It gets crazier the more you watch it 🤯

It was time to #Moto3 Q2 which saw 2 mechanics slapped with a 2 race ban 💥#AragonGP 🏁 pic.twitter.com/NCUGDbO5al

—MotoGP™🏁 (@MotoGP) September 17, 2022
MotoGP announced that the two mechanics in question had "interfered and made contact with another team's bike and rider in an aggressive and dangerous manner" – each with a €2,000 fine and delayed two-race bans.
The bans will apply to weekends at Phillip Island and Sepang rather than upcoming races at Motegi and Buriram, as "it would not be possible to replace members of the team in question for the next two races in due to immigration and travel restrictions for upcoming rounds, which could potentially pose a safety concern for their rider.
On the Tech3 side, Poncharal admitted to The Race that despite all his racing experience, it's not something he's come across before – but also not something that Max Racing Team Sasaki riders should see. and John McPhee punished for the actions of their teams.
"I was shocked," he said after seeing the video footage. "They sent me the video, I sent it to [Max Racing Team manager] Peter Oettl, to tell him 'what's going on?' He said "I'm sorry, I apologize". More than that, what do you want me to tell you? It's always hard to say. They'll say it's not deliberately done or something.
"But…we have the data, the guys sent me the data, they're really crossed – and it's almost obvious. Almost obvious. What can I say ? What can we do? I think it was not a good image for the sport, absolutely not, especially between two sister brands that belong to the same group [Husqvarna and KTM]."
Unacceptable behavior!
We publicly apologize to the Tech3 Racing team and Adriàn Fernàndez.
An unsolicited and dangerous action that can in no way be justified by our code of ethics!
Those responsible will be punished appropriately. https://t.co/Hia5Usr3U0

— Max Biaggi (@maxbiaggi) September 17, 2022
However, the Frenchman has also been more magnanimous than his counterpart Biaggi when it comes to penalties. Conceding that following other riders is part of the game during Moto3 qualifying – something he says he is particularly aware of after working with Sasaki (a frequent offender) in 2021 – Poncharal said more than anything it should be a warning to others.
"I don't see the point of it because I don't think Adrian will become a threat to anyone," he admitted of his driver's performance, with Fernandez 14 places behind Sasaki at the ranking in 20th.
"Of course they all go together, trying to follow each other. But he is not the only one ! I don't know who he wanted to follow, maybe they thought he wanted to follow Ayumu, but when I was with Ayumu [at Tech3 in 2020-21] everyone would come and say 'hey, can't you ask Ayumu to stop following?!'
"They all follow each other! That's the game ! It's not the rule but that's what they do.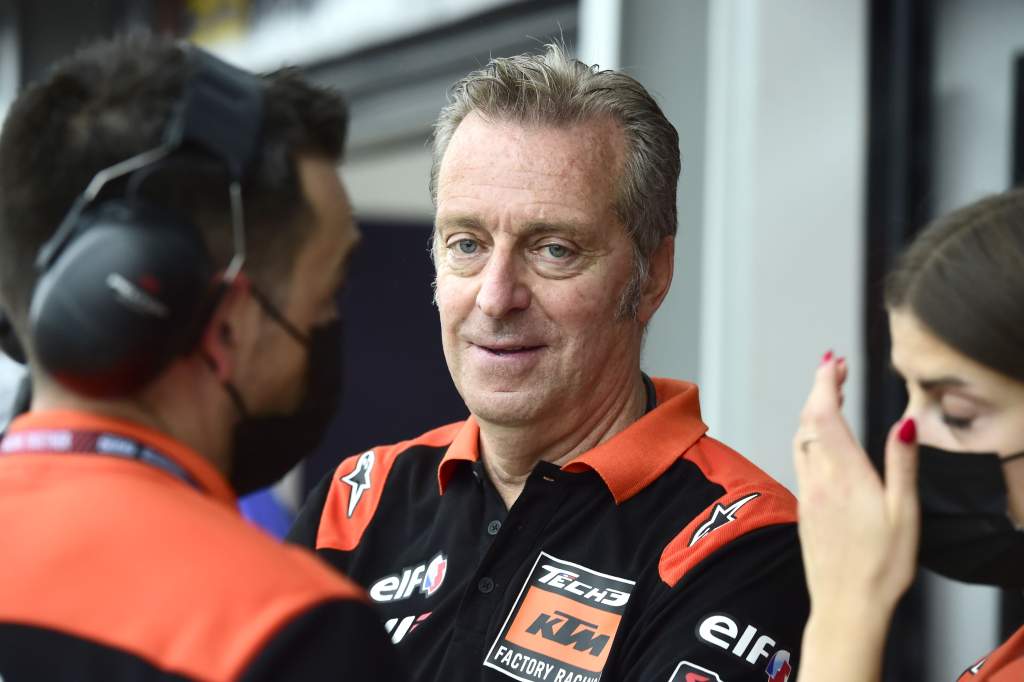 "But honestly, I don't want to make a big deal out of it. I think it's the first time I've seen this. But what can you do? Can you penalize? You're not going to penalize the runner, the runner doesn't know anything and he's certainly not involved. So who should be penalized? I think it was good that there was a video, I also have to thank Adrian for not saying anything, but poor boy, he came back to the club and he was crying like a baby.
"It's like when you have dirty things happening in a football game and you see it live on camera… I think once you show it, and I think there were quite a few people watching it, you know it happened and you can tell people "don't do that again".
"The more input and focus on it, the more some people know it happened and it shouldn't be done because it's dirty."