A season in review with the announcement of the MotoGP™ Fantasy winners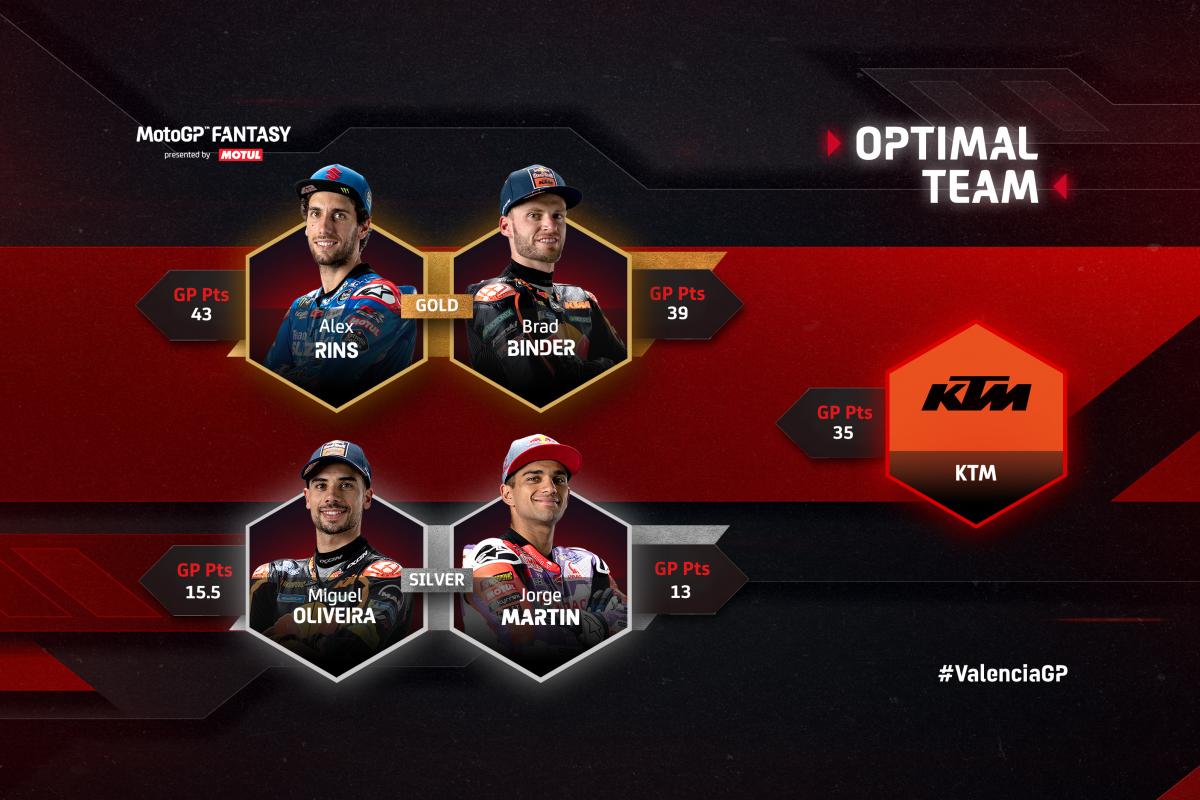 Check out all the best stats from the season just ended in MotoGP™ Fantasy
After a long and hard-fought campaign, Francesco Bagnaia (Ducati Lenovo Team) is your 2022 MotoGP™ World Champion. It's been a fascinating season with twists and turns around every corner, and we can't wait to see what next year brings. Reserve.
As the curtain falls on Grand Prix racing for another year, so does MotoGP™ Fantasy, where we can now officially declare the players winners! Before we hand out the awards, let's take a look at some of the season's best stats below.
Who formed the Valencia GP Dream Team?
Alex Rins bid a perfect farewell to Suzuki with a victory at the Ricardo Tormo circuit, and he is our best rider of the weekend with 42 points. It was also a good day for both factory KTMs, as Brad Binder's total of 39 points sees him take second place in the Gold Rider, while Miguel Oliveira is a Silver Rider, netting 15.5 points at the crew.
Pole sitter Jorge Martin (Prima Pramac Racing) finished third collecting 13 points for the team. Unsurprisingly with two riders in the Dream Team, KTM was the top manufacturer with 35 points.
Who was the ultimate Dream Team 2022?
It's no surprise that Bagnaia was the best driver in the game this year, racking up a total of 507 points from 20 races. Seven wins during the season helped the Italian reach that total, leaving him 61 points clear of his nearest rival; Fabio Quartararo (Monster Energy Yamaha MotoGP™).
The Frenchman, who conceded his world championship title to Bagnaia this weekend, still performed well throughout the season, amassing 446 points in total. Brad Binder is third in the standings with 435 points. Three podium successes coupled with plenty of charges on Sunday from deep in the grid have helped the Red Bull KTM Factory Racing rider become one of the game's most valuable assets over the past year.
To complete the team, Enea Bastianini. The now official Ducati rider has won four victories during the year while wearing the Gresini colours, and he completes the Dream Team MotoGP™ Fantasy 2022 with 426 points.
As for the manufacturer, Ducati stood out with 638 points in total, with KTM a distant second and Yamaha third.
How did the official MotoGP™ Fantasy team do?
Throughout 2022, a variety of guests joined Jack Gorst before each GP and selected the riders they thought would score the big points. From riders like Fabio Di Giannantonio (Gresini Racing MotoGP™), Jorge Martin (Prima Pramac Racing) and Alex Marquez (Gresini Racing MotoGP™), to team managers such as Max Biaggi and Razlan Razali, they all played a role. In the end, the official team collected a respectable 1745 points, ranking among the top 10,000 teams in the Official MotoGP™ League.
So if the official MotoGP™ Fantasy team wins, who does?
The competition was tough this year, and despite our best efforts and our expert guests, we were unable to top the leaderboard. However, three players managed to shine more than anyone else!
1st place: MR77 Race Team – With a grand total of 2,174 points, your winning team comes from Italy and takes home the top prize of a signed replica of 2021 World Champion Fabio Quartararo's helmet. They will also receive a Motul Merchandising package.
2nd place: The MUKY RS team – A Lenovo laptop and a MotoGP ™ 22 video game, as well as the Motul merchandising package go in the direction of this team thanks to a total of 2162.5.
3rd place: Kawagreen – Our last podium, with 2,160.5 points, wins an official Tissot MotoGP™ wristwatch and the Motul merchandising pack.
Congratulations to all three and look forward to seeing you again next year!